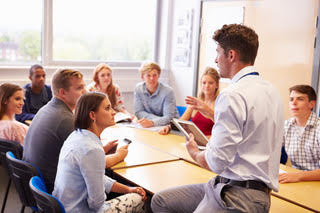 Courses and seminars not only in general but also in professional English, developing specific areas of business and professional language, are a popular complement to regular teaching.
Language courses in companies represent a comprehensive solution for language education. During the introductory interview, our lecturers will test your employees and, based on the placement test, will recommend candidates to be assigned to individual groups. We are happy to prepare intensive short-term courses or even long-term study programs, which can be completed with one of the internationally valid language exams.
Part of the teaching of company courses is the regular evaluation of students and testing of their knowledge, as well as a thorough record of employee attendance.
Try a free sample lesson! We will be happy to organise classes at your company or online.
Choose a course or give us your own teaching requirements

Take advantage of the experience and talent of our lecturers

Improve your language skills
Why study with us

We listen to you carefully. We respond to your requests immediately.
We will always maximally adapt the teaching to your needs and requirements.
We have a team of highly qualified lecturers.
How to study successfully:
Motivating, fun, consistent and qualified lecturer.
A clear study plan agreed by the student and the client, including goals.
Use of authentic materials from everyday practice.
Regular feedback for the student, experiencing success strengthens motivation.
Tips for self-study between lessons according to the employee's study style
Do you want a Czech-speaking lecturer or a native speaker? We will leave the choice entirely to you.


OFFER OF COURSES AND SEMINARS
Business English General English English for Human Resources (HR) Client Service